New Year Resolutions
January usually starts with a diet, signing up to a gym, to help slim back down from the over-indulgence of cheese boards and Sausage rolls during the festive period. I personally find it incredibly hard to get into a new me so soon into the New Year, I need to ease in a slow pace! I find January a great time of year to tackle the home. With the miserable weather, I find it satisfying to have a really good clear out, carting bags and boxes to charity shops, and the old or damaged items to the recycling centre.
I clear my home of old magazines, toys, and items and clothes that haven't seen the light of day for over 12 months! Large items of furniture are either passed to friends or listed on eBay – I believe in someone else's trash is someone else's treasure! With the whole frantic house clearance in limited time, by the end of January, I have even shed a few pounds too!
With my new space emerging, it's hard to resist purchasing a few inspirational pieces in the sales. Totally believe in one out – one in! A couple of items can transform a room. Invest in a few storage solutions. This year I have splashed out on an Ottoman Bed, which amazingly now houses a huge amount of items, freeing up my drawers and wardrobes. This January I got the paint pots out too whilst I was at it and gave the house a good freshen up, I am now ready for the New Year and I have certainly given the arms a workout too!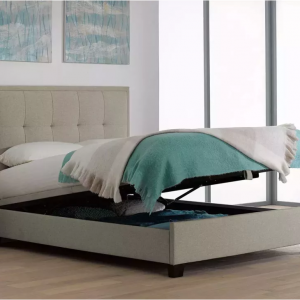 If you are not up to the process yourself, remember Lesley Ann Interiors offers a no-pressure Decluttering and Reorganisation service. Click here for more info.
Just getting on top of storage solutions and clutter can feel like an impossible mission at times. Lesley Ann Interiors offer a de-cluttering and Organisation Service, for those of you who wish to get on top of overwhelming areas, find some solutions to storing your items and to free up your valuable time when looking for things.
This service is also ideal for homeowners planning to sell their properties, as the de-cluttering service will assist you to clear away items in readiness for presenting your home to potential buyers – It may even add thousands to the sales price!
We are also on hand for our clients to assist with our organisation and packing skills in time for moving day!
No pressure decluttering service
Assistance in organisation of rooms
Unwanted items – sold, recycled or donated
Removal of items